Intern
Chelsea was born in San Francisco, California, but moved to Albuquerque at a young age. She graduated from University of New Mexico in December 2018 with a bachelor's degree in organizational communication with a minor in business management. Although she never intentionally strived for a career with children, most of her opportunities have involved working with kids. In high school, she worked as a troop leader for Girl Scouts of America and inspired girls to build leadership values, self worth, and other skills. In her college years, she worked as a character entertainer and brought magic to kids of all ages. Now, she hopes to improve the public education system for New Mexico working as an intern at NewMexicoKidsCAN.
I aspire to be like my stepmom. Here's why:
I met my stepmom when I was at that crucial age when you are discovering who you are. She introduced me to some of my favorite reality shows, but more importantly, she provided a perspective on life that differed from the one I grew up with. She's unapologetically herself, is willing to speak about things that others avoid, and will speak out for things that need to be changed. The lessons she taught me greatly changed my own perspective, and that's why I'm striving to be like her as I grow older as well.
Why I'm excited to intern at NewMexicoKidsCAN:
I love the opportunity to change things. Even at its best, there are things in New Mexico that can be improved, and interning at NewMexicoKidsCAN is the most hands-on way to do that. Rather than sitting from the sidelines, I get to use my voice and ideas to strive to improve New Mexico's education system.
My connection to public schools:
I benefited from attending both private schools and public charter schools growing up. I'm grateful that I was able to find schools that provided the educational experience I desired. Now that I've completed my formal education, I maintain my connection to our public schools through friends and family, including friends who work in the public school system and my little sister who currently attends a charter school.
What I'm bad at:
Not overthinking things! When life happens, whether good or bad, I have a habit of overthinking that event to the point of exhaustion. It's like a spiral that won't stop spinning, so it takes me a bit to take a breath and stop thinking about it.
This image represents why I work at NewMexicoKidsCAN: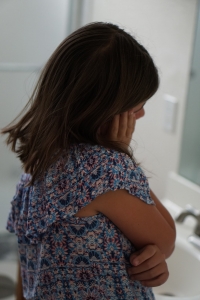 This is a photo I took of my sister a couple years ago for a school project. At the end of the day, I'd love to improve the education for kids like her all across New Mexico.