Advocacy Manager
Born and raised in Santa Rosa, NM, Dominica Chavez takes immense pride in her New Mexican roots. She graduated from Santa Rosa High School before pursuing her bachelor's degree in business at Cottey College in Nevada, Missouri. She then earned her master's degree in education and human development from George Washington University in Washington, D.C.
During her time at Santa Rosa High School, Dominica found her purpose by actively participating in Career and Technical Student Organizations. Notably, she served as the national president of Business Professionals of America (BPA) from 2018 to 2019. Through this role and her membership on the National BPA Board of Trustees, Dominica discovered her passion for advocacy and improving educational policies. As the organization's first advocacy committee chair, she played a pivotal role in launching the BPA advocacy campaign and participated in the Inaugural ReThink CTE Summit in Washington, D.C., after the renewal of Perkins V in 2019.
Recently, Dominica held the position of leadership coaching services manager at TEAMTRI, where she developed and delivered executive-level leadership coaching and training programs for students enrolled in CTE programs across the nation. Dominica is excited and energized to join the fight to ensure all New Mexico students have access to a high-quality education regardless of their address.
I aspire to be like Katharine Graham. Here's why:
Katharine Graham. Known for being the first woman to serve as CEO of a Fortune 500 company and director of the associated press, Katharine Graham's rise to leadership at the Washington Post is truly inspiring. It stands as a testament to what can be accomplished when one approaches life with a willingness to learn. When faced with the decision of whether to step into the role of publisher and leader of WaPo or let someone else lead the family business, Mrs. Graham chose to lead. She justified this decision by stating, "The only intelligent thing to do is to learn what things are about." Despite having no prior management experience, facing discouragement from those around her, and dealing with societal expectations of a woman's role, Mrs. Graham fearlessly led the Washington Post. Her journey as a leader serves as a powerful reminder to not be afraid of taking up space in places that may not have been traditionally designed for you. It also emphasizes the importance of approaching every challenging situation with a willingness to learn and grow.
Why I love my job:
I love my job because it enables me to make a positive impact on my home state. Ever since my experience as the 70th Governor of New Mexico Girls State in high school, I have been deeply passionate about enhancing education and shaping the future of the Land of Enchantment. Fortunately, my current position allows me to fulfill this passion, and I am immensely grateful for the opportunity to wake up every day and advocate for the students of New Mexico.
My connection to public schools:
From HeadStart to senior year, my journey as a first-generation college student began in the public school system in my hometown of Santa Rosa, New Mexico. Despite not having access to advanced placement courses or other opportunities that my peers in different areas might have had, I consider myself fortunate to have been part of a tight-knit community with exceptional teachers who constantly encouraged me to persevere and believe in myself. Throughout my upbringing, I had the privilege of witnessing my grandfather, Ernest Chavez, diligently work to enhance our school district as a member and President of the SRCS School Board. His dedication and commitment inspired me greatly. I am deeply grateful for my time at SRCS as it has played a significant role in shaping the person I am today. Presently, all my younger siblings are also enrolled in the same public school system, and it's my mission to ensure they too will have an enriching experience and the chance to build a promising future just like I did.
What I'm bad at:
Making homemade tortillas! Though I spent my childhood helping my grandmother prepare traditional New Mexican cuisine including tortillas, I just can't get the recipe down!
This image represents why I work at 50CAN: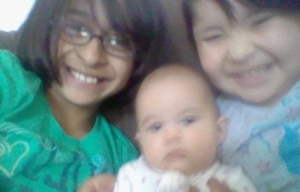 Growing up, being a big sister in a single-parent home was my first and most important job. Serving as their role model, lifelong best friend, and advocate has always been incredibly important to me. Today, I am fortunate to work at 50CAN, where I am dedicated to fighting for the thousands of New Mexico students who, like my sisters, deserve access to a high-quality education, regardless of their address.