Today the New Mexico Public Education Department released graduation rates from the graduating class of 2018. With the release comes great news for New Mexico: a 10 year high graduation rate of 73.9%.
This graduation rate is a 2.8 percentage point improvement over the class of 2017 and a 19.9 percentage point increase from the graduating class of 2008. Even better, every subgroup of students improved in graduation rates in 2018, most notably our Native American students, students with disabilities and English learners. Over the past ten years, Hispanic students have made the largest improvement in graduation rates increasing from 50.2% in 2008 to 73.1% in 2019. Native American students follow close behind having increased from 45.5% in 2008 to 65.8% in 2018. These subgroups are truly narrowing the graduation rate gap that has persisted for decades.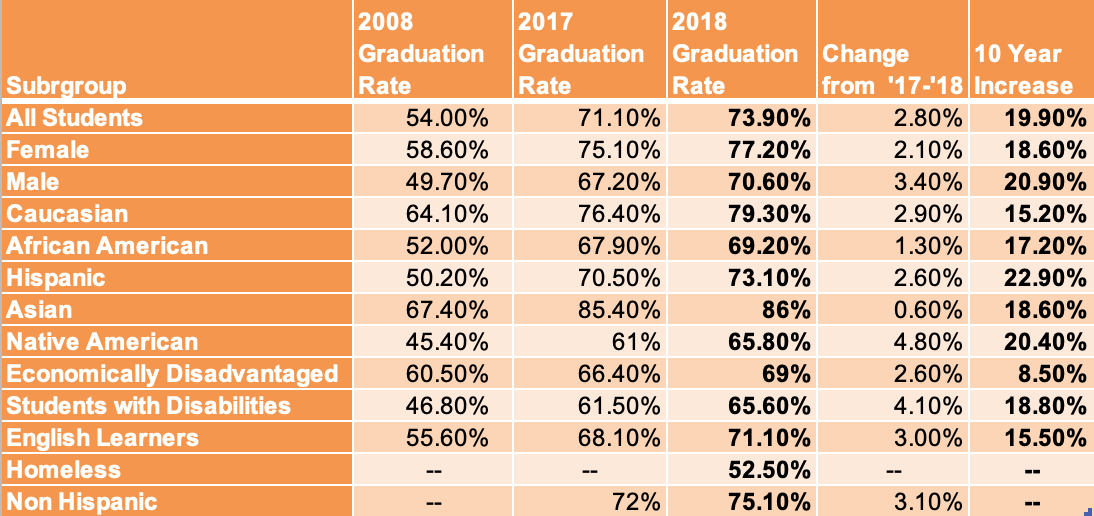 Our students, educators, administrators and families have a lot to be proud of, especially our students and families of color. Our Hispanic students and Native American students are leading the way in New Mexico's decade long graduation rate improvement.
These graduation rates show us that when we set a high bar for our students, they can rise to the challenge. Not just some of our students but ALL students." These increased graduation rates demonstrate that improved academic outcomes are possible for New Mexico's students, who are now better prepared than ever before. In comparison to many other states, New Mexico has more rigorous graduation requirements. The graduating class of 2018 had to demonstrate competency in mathematics, reading, writing, science and social studies to earn their diploma, in addition to completing all course requirements and meeting the minimum amount of credit hours.
Within the details of these results there is plenty to be proud of at the school, district and state levels. However, we must remind ourselves that even with a 10-year high graduation rate, we are still failing to prepare 1 in 4 students for success. We must keep working to ensure we are preparing every student with a meaningful diploma that prepares them to be the future leaders New Mexico needs.